Past Events of the School of Law
1. Curriculum
Seminar (National)
Name of Event:1st Multi-Disciplinary International Conference on "SOCIETY, TECHNOLOGY AND DEVELOPMENT IN 21ST CENTURY in India"
Date of Event: 22 November, 2019
Details of the Event:
The Second Moot Court on 'Intellectual Property Rights and Academia' was conducted by Department of Laws, IEC University, Solan, H.P. on 04 November 2020. The various laws, bye-laws, statutes regarding Patents and Trademark were discussed and also the practical aspect of the process of Registration of Trademark was explained to the students in a very clear and unostentatious way. The Chieft Guest for this event was Prof (Dr.) MK Bhandari and the speakers were Dr. Mohini Suryavanshi, Patent and Trademarks Attorney, Mumbai, Mr. Roshan Aggarwal, CEO, Siddhasth IP Pvt. Ltd (a firm which gained prominence for making patent software for Government of India) and Mrs. Chetan Rani, a Patent Software Trainer.
The patron of this conference was Dr. Abhay Kumar, Vice Chancellor, IEC University and the Conference Convener was Dr. Ravinder Kumar, Dean, School of Law along with Conference Co-Convener: Mr. Prahalad Gupta (Assistant Professor) & Mrs. Mumtaz Zabeen (Assistant Professor). The Conference was successful due to active participation of students, faculties, management of the university and also due to huge response in form of research papers. The Research papers were received in huge number from esteemed Universities and esteemed Speakers delivered fabulous lectures.
Webinar (National)
Name of Event- Webinar on 'Intellectual Property Rights and Academia'
Details of the Event:
Date of Event- 04.11.2020
Details of the Event: The Multi-Disciplinary International Conference on "SOCIETY, TECHNOLOGY AND DEVELOPMENT IN 21ST CENTURY in India" was organised by School of Law, IEC University on 22.11.2019. The Research papers were invited with following sub-themes: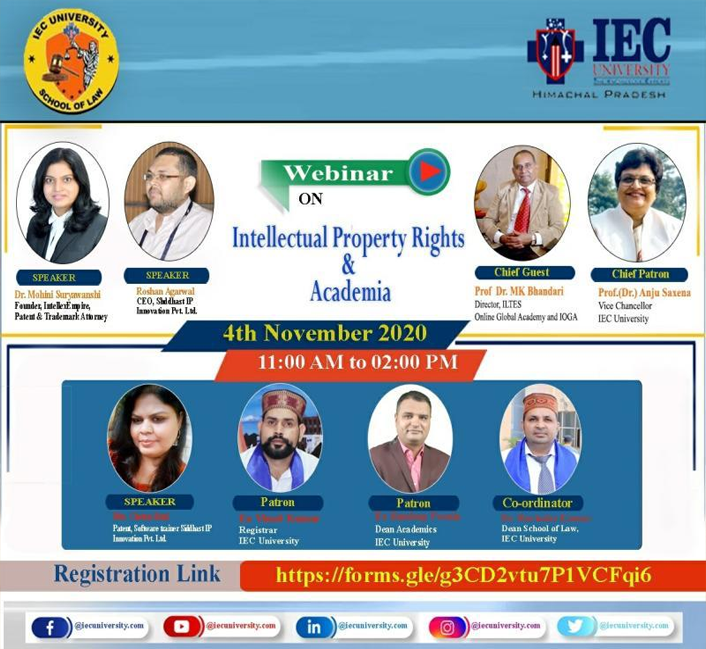 2. Co-curriculum
Workshop (National)
Name of Event:Workshop on: "Cyber Crime and Cyber laws in India"
Details of the Event:
Date of Event:07.09.2021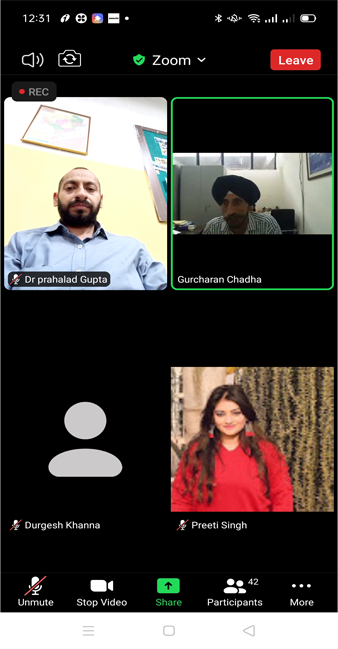 Details of the Event: A workshop on Cyber-crimes and Cyber laws was organized by the School of Law to enhance the knowledge of the students in this new and upcoming field. With the advent of Internet and Computers in our daily life, the traditional criminals went hi-tech and started abusing computer resources for committing crimes like theft, fraud, forgery, defamation and other wide range of offences. In India, the laws contained in Indian Penal Code 1860 were too archaic to deal with this new species of crimes and the proliferating e-commerce business added to the problems of law makers. In year 2000, Information Technology Act came into force which covered laws related to Electronic records and Digital signature. This Act not only defined cyber-crimes and prescribed penalties for them but also amended various sections of the Indian Penal Code 1860, the Indian Evidence Act, 1872, The Banker's book evidence Act, 1891 and RBI Act 1934 so that they are in tandem with modern advancements in Criminal law. The workshop discussed this very journey of the Cyber Laws in India and also it dealt with various modern challenges posed to the current cyber laws in India.
Court Visit (state)
Name of Event:One-day Court Visit to Nalagarh Court
Date of Event: 29.04.2022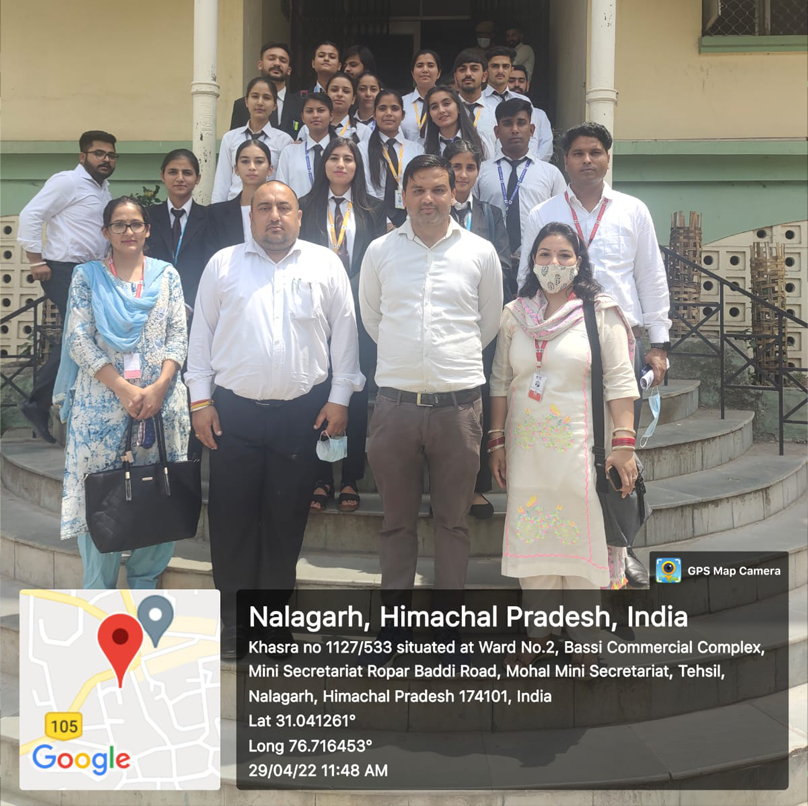 Details of the Event:
The School of Law, IEC University took permission from Additional District and Sessions Judge, Nalagarh, Solan to visit the Court premises, for the students to watch the Court proceedings and to interact with seniors from legal profession. The Hon'ble Judge granted the permission and hence the one-day visit was planned to the Nalagarh Court. The Management of the IEC University provided a Bus for the students and Faculties in which all of them started at 9.30 am from the University Campus. As soon as they reached Nalagarh Court they went inside the Court rooms to watch the Court Proceedings presided over by Additional District and Sessions Judge Sh. Avinash Chand and Additional Civil Judge Senior Division Sh. Mohit Bansal. After watching the Court proceedings, the Hon'ble judges interacted with the students and asked them question about the subject and their plans for the future. Then, the President Bar Association Nalagarh Court Sh. Dharmendra Singh Rana interacted with students and gave them career counselling as well. The students noted down the important information and were benefited immensely by one-day Court visit.
Legal Aid Camp
Name of Event: Legal Aid Camp under PAN India Awareness and outreach program as part of NALSA Legal Services Week
Date of Event: 02/11/2021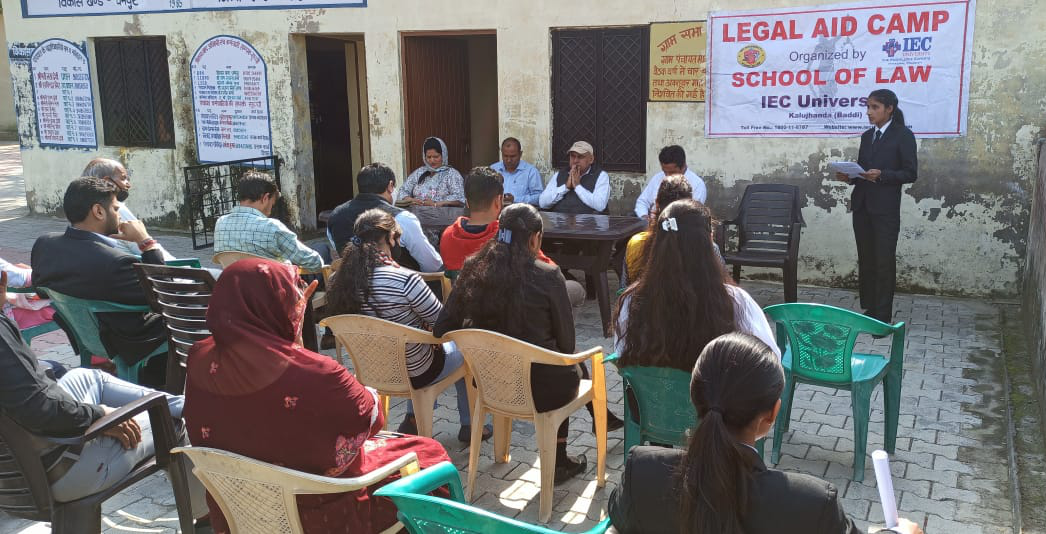 Details of the Event:
The Legal Aid Camp was organized by School of Law, IEC University in association with District Legal Services Authority, Solan, Himachal Pradesh under Pan India Awareness and Outreach Program as part of NALSA Legal Services Week on 02-11-2021, 10.30 a.m. at Gram Panchayat Mandhala, District Solan, Himachal Pradesh. The Pradhan of Gram Panchayat-Smt. Lata Devi, Up-Pradhan -Sh. Harvinder Singh and Panchayat Secretary-Sh. Suresh Kumar along with other ward members were present for this Legal Aid Camp. The Faculty of School of Law, IEC University Ms. Mamta Kumari along with students Narender, Nancy and Lalita of Semester IXth B.A LL. B and Akash, Bagish Pandey of Semester IIIrd BALLB enlightened the gathering of villagers about Alternative Dispute Resolution Techniques and Procedure of Lok Adalats. They also interacted with the villagers and answered their queries related to Consumer Rights, Domestic Violence and other mundane Legal issues.
3. Other Activity/Event
Constitution Day
Name of Event: Constitution Day
Date of Event: 26/11/ 2021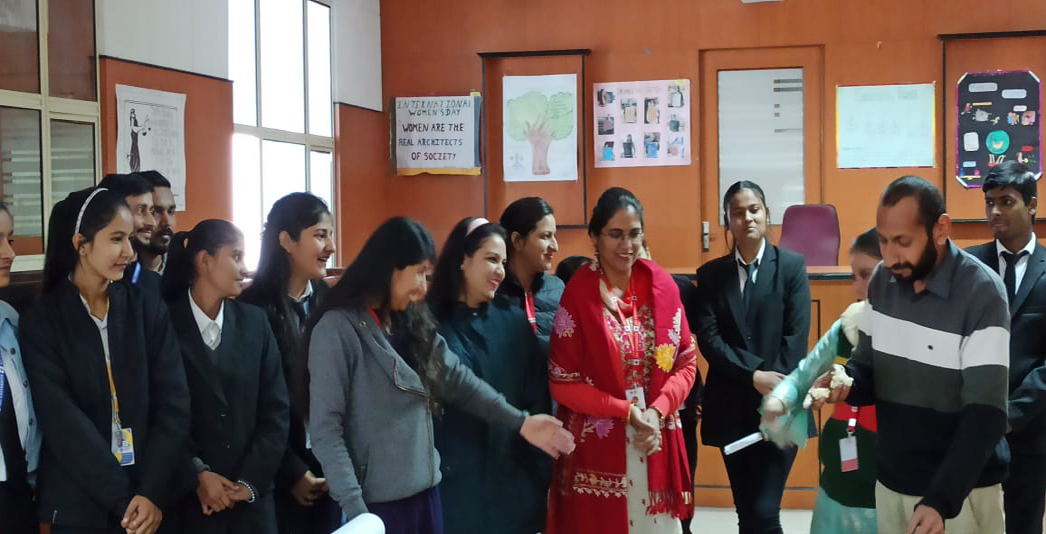 Details of the Event:
Constitution day also called 'Law day' or 'Samvidhan Divas' was celebrated in Law Department, IEC University, Solan, H.P. on 26th November. The Constitution Day came into being as on this day the Constitution of India was adopted and was given to 'We the people of India'. This Day is a gentle Reminder of our freedom struggle and resultant Constitutional Democracy. Students made posters and gave speeches speaking about the importance of Constitution and explaining the constituent assembly debates. There was free flow of ideas and students were also able to express their creative side via these activities