School of Humanities and Social Sciences
Dean's Welcome Message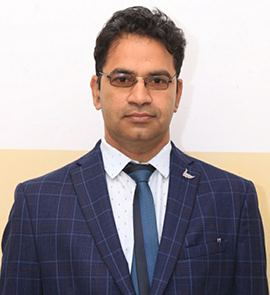 Prof. (Dr) Ajay K. Chaturvedi
Message to Students,
The School of Humanities and Social Sciences fosters critical thinking, creative expression, and intellectual curiosity. In classrooms, laboratories, studios, and on stage, students are prepared for a variety of careers, and they are equipped to prosper in an unpredictable future. I am proud to lead this School as Dean, and I am dedicated to the belief that the programs offered in the Humanities and Social Sciences are the best preparation for the fierce urgency of the contemporary world.
Our School includes three departments: Humanities and Social Sciences, Journalism, and Fashion and Art that offer various programs and provide a rich curriculum to students enrolled at IEC University. Our faculty is our strength which is well qualified and research orientated. Faculty brings innovative pedagogy and dedication to their teaching, transforming the minds and lives of our students. I welcome you to the School of Humanities and Social Sciences. Explore our course offerings, the expertise of our faculty, and our outstanding facilities.
Regards Prof. (Dr) Ajay K. Chaturvedi Professor & Dean School of Humanities and Social Sciences