School of Humanities and Social Sciences
Career Options
Career in Journalism revolves around information. It is the investigation and reporting of events, issues and trends to a broad audience. Journalists are men and women who present the information as news to the audiences of newspapers, magazines, radio or television stations or the Internet. With the growing popularity and importance of the media, the opportunities in this field are galore. Careers in media offer many benefits and opportunities. In addition, journalism has excellent earning potential and is consistently ranked as one of the most highly important profession. Followings are the Career opportunities in Journalism: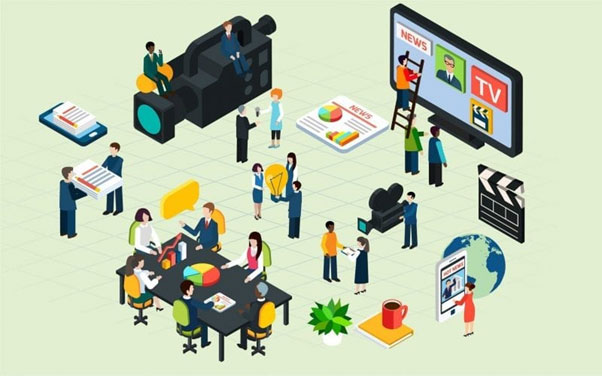 Television & Film Director/Producer
The post-pandemic era skyrocketed the consumption of media, thus creating a rising demand for creative producers and directors in the entertainment sector. With a BA/ MA in Journalism and Mass Communication (MAJMC), you can get into the media world and explore multiple profiles including Television and Film Directors and Producers. For those of you who have a knack to entertain people through films, this is the correct profile for you. Not just producers or directors, professionals with this degree can also fit the profiles of scriptwriters, video editors, 3D designers, and graphics and animation creators amongst others.
Content Writer
With the growing consumption of content across all the verticals, the demand for content writers has gone up significantly. If you have effective writing skills and want to turn them into a rewarding career, a content writing profile is the best match for you. Being a content writer with a MAJMC degree, summons opportunities in media houses, digital marketing agencies, advertising agencies, and other leading organizations.
Event Manager
Event Management is an emerging field budding with a multitude of career opportunities. For those of you who love planning, organizing, and managing events including coordination, creative execution, finance, resource procurement etc. can explore the field of Event Management. With a MAJMC degree, you acquire various skills and learn diverse aspects of planning, management and execution that will bolster an Event Management career.
Public Relations Professional
An MAJMC /BAJMC degree equips you with excellent communication, negotiation, interpersonal, and management skills that are best suited for job roles related to Public Relations. Leading organizations around the world are constantly in search of talented individuals who can effectively represent their brand and build strong a network and connections in the market. With the growing awareness in organizations regarding their brand image, the demand for PR professionals has grown exponentially!
Digital Marketing Expert
In today's technology-driven world, the field of Digital Marketing has been extremely fertile for professionals with an MAJMC /BAJMC degree. This degree equips students with 21st century skills that are required to have a flourishing career in Digital Marketing. Being an emerging field, you get to experiment with diverse career avenues in specialized areas including Search Engine Optimization (SEO), SEM, Content Writing, Graphic Designing, Email Marketing, Social Media Marketing, Inbound Marketing and Web analytics.
Journalist
Journalism includes delivering authentic, unbiased news to the masses based on thorough research and documentation. Covering any event in a particular area, finding facts and related information, and delivering it to the masses in the form of printed and digital media lies within the job profile of a journalist. The MAJMC degree provides aspirants with all the required skills and knowledge related to Journalism, aiding them to deliver the true story to the public effectively.
Columnist
Most of us must be acquainted with some kind of segment or section in a newspaper or magazine that's dedicated to specific topics. There might be a health column, entertainment section, politics, education, etc. and these are helmed by professional columnists who are trained in the field of Journalism and Mass Communication. So, if the idea of delivering useful content creatively, appeals to you, this can be a perfect job profile for you.
Apart from the jobs mentioned above, you can also explore the following job profiles with this degree: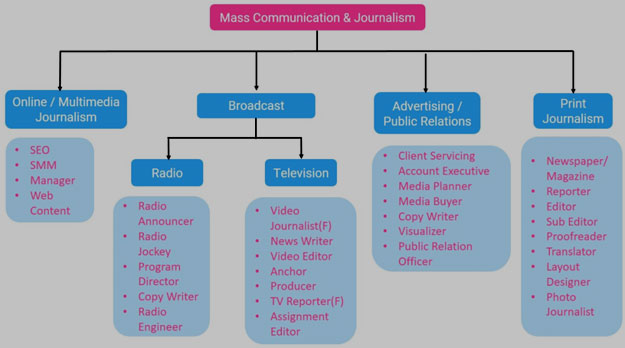 Jobs in Electronic Media:-
Journalist.
News Anchor.
News Reader.
News Reporter.
Radio Jockey (RJ).
Video Jockey (VJ).
Cameraman.
Video-Editor.
Sub-editor.
Photojournalist.
Graphic Design.
Translator.
Freelancer.
Script Writer.
Producer.
Online Journalist.
Proofreaders etc.

Jobs in Print Media:-
Reporter.
Editor.
Sub-editor.
Cartoonist.
Photojournalist.
Editorial assistant.
Magazine journalist.
Freelance Journalist.
Freelance Photojournalist.
Circulation Manager.
Stinger.
Translator.
Script Writer.
Proofreaders.
Writer etc.

Govt. Jobs:-
Public Relation Officer (PRO).
Teaching jobs (in Schools, colleges and Universities).
Different jobs in All India Radio (AIR).
Different jobs in Doordarshan Kendra (DDK).
Eligible for all other Government jobs.
Other jobs:-
Multi Media Journalist.
Online Reporter.
Social Media – Manager.
Digital copywriter.
Multimedia specialist.
Media relation Officer.
Corporate Communicator.
Event Manager.
Market researcher.
Film Maker.
Documentary Maker.
News Agency owner.
Advertising Agency owner.
Media house owner.
Program Director.
Program Producer.
Modelling.
Voice over artist.
Actor and many more …